Salvador is literally surrounded by beaches. They are where people go to relax, cool off, chill, socialize, eat, drink, dance, exercise, surf, and of course swim. They vary from crowded city beaches great for meeting people to tropical idylls up and down the coast.
One of the first beaches that most people get to know in Salvador is Porto da Barra, site of Bahia's first European settlement, Vila Velha, or the Old Village. During the 1960's it was a hangout for Tropicalistas Caetano Veloso (who sang of the beach in his song "Qual é Baiana?") and Gilberto Gil and their crowd, and it continues to be very much of a hangout today.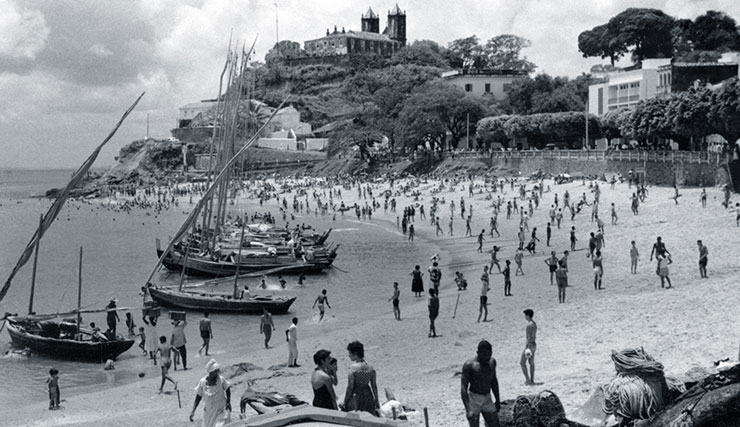 The beach is set within the bay and the water is much calmer than on the oceanside beaches; it's good for swimming. On weekends, especially Sundays, Porto da Barra can get very crowded, and it's a good idea to keep a good eye on your stuff. Sandals, sunglasses, and like items can disappear in an instant, the magicians usually being innocent-enough looking kids playing around in the sand near you.
Moving out, the next beach is Farol da Barra. Farol means a beacon; here "lighthouse" (the word "farol" is derived from "Pharos", the name of the small island of the coast of Alexandria, Egypt, where a great lighthouse, one of the Seven Wonders of the Ancient World, was built). The end of the beach closest to the lighthouse is rocky, with protected pools making it a good place for kids to safely play in the water. The far end of the beach is usually surfer territory.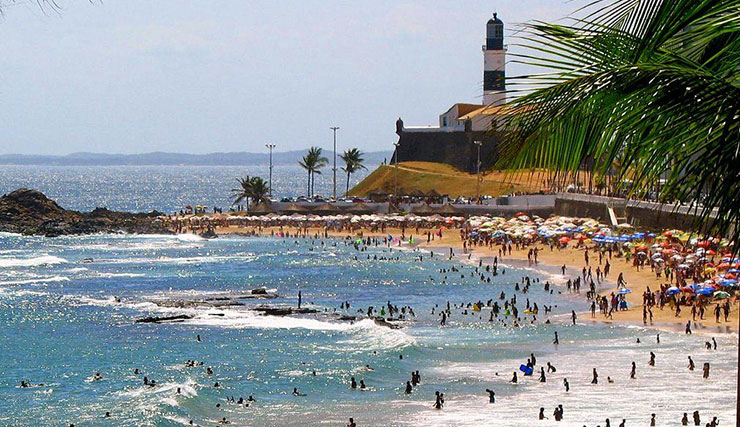 From here the beaches run in a more-or-less solid line up to, oh I don't know, Venezuela probably. But the next important point-of-reference within the context of what I'm laying out here is Itapoan (also spelled Itapuã). Itapoan used to be a village quite apart from Salvador, but it has since been aborbed into the greater Salvador metropolitan area, and you fans of Brazilian music may have heard the place mentioned in the eponymous (and nonpareil) Tarde em Itapuã (Afternoon in Itapoan), composed by Toquinho and Vinicius de Moraes.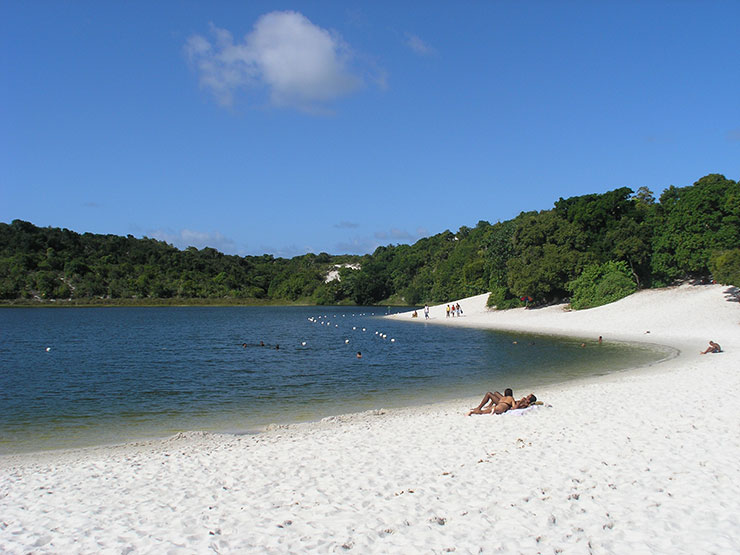 A Lenda do Abaeté — The Legend of Abaeté — composed and sung here by Dorival Caymmi, is based in the fact that much candomblé had and has taken and continues to take place around the lagoon.
One may also move into the bay. In addition to the big island of Itaparica (which falsely gives the impression of being the far side of the bay when one stands in Salvador and looks out across the water) there are a number of beautiful islands which of course can only be reached by boat.