Bahia is The Land of the Drum, and there are of course some fabulous percussionists here, including those who play out-and-about and record and are locally renowned (don't let the "locally" fool you; to be renowned in Bahia means out-of-this-world class), and others out in the backlands or off in the favelas who are just as magnificent.
But before I get local in Bahia, and given the fact that most people who come to this site come from afar…I'd like to point you to an amazing, accessible and available percussion resource by the name of Michael de Miranda!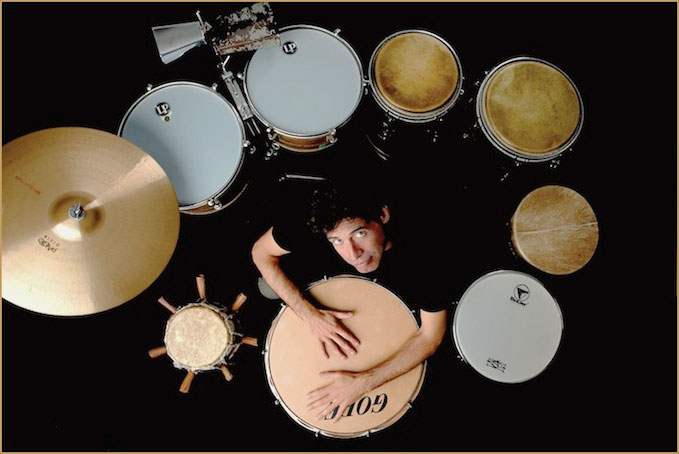 Michael was born in Aruba to a Surinamese father and a Dutch mother. He is a wonderful percussionist and beyond this he is an absolutely superb percussion teacher. His breakdowns and explanations of a panoply of patterns are without parallel!
Michael's website is here, with copious links to his (and his equally wonderful drumming partner Matthias Haffner's) youtube videos.
Below is a demonstration by Michael and Matthias of a rhythm called "kabila", which is the supremely important (in Brazil anyway) basis for samba. They learned this rhythm here in Salvador from Gabi Guedes, who you will come across a bit further down this page. Of interesting note is the fact that unlike what most people in the  so-called "developed" countries are accustomed to, parts of the rhythm are played between the pulses. This allows music to step into (dance into!) a whole new universe of possibilities to which most of us from those developed countries are culturally blind to (although the scales can fall from our eyes, and ears)…
A note: Per the name of the clip below you'll see that this rhythm is from the "nação de Angola". That is the "nation of Angola", referring not to the country, per se, but to the candomblé "nation" comprised of people brought to Bahia from that general region in Africa (an area which also includes a part of which is now the Congo). These were the first people brought here en masse, to the Recôncavo, and it was there that they created the nascent and primordial and soul-lifting music which would come to dominate Brazil.
Macambira
Macambira teaches in his studio at the top of the Largo do Pelourinho, to the left if one approaches from the bottom of the hill. One (true) way of praising Macambira would be to say that Badega, a masterly professional in his own right, from Santo Amaro and specializing in the percussion of the Recôncavo, studied with Macambira when he needed to improve his Carnival chops a few years back.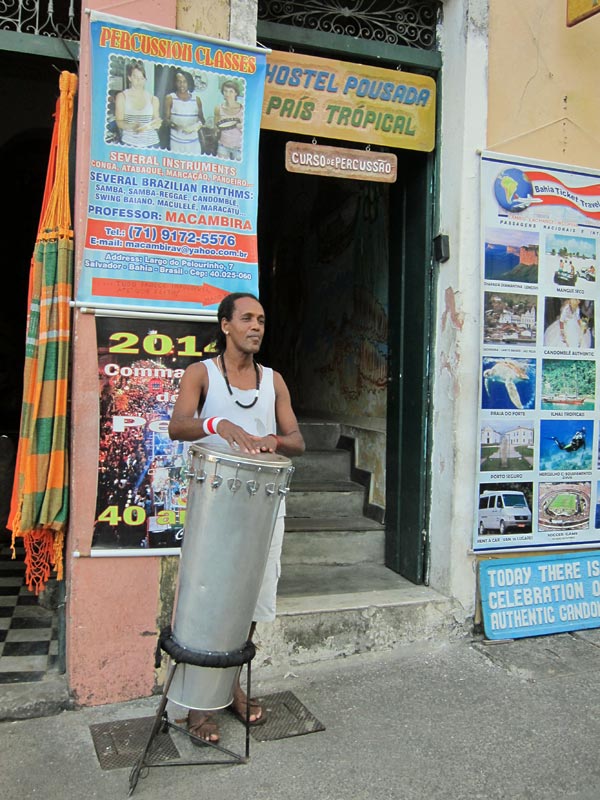 Macambira's number and whatsapp are: +55 71 9 9172-5576. He gives both one-on-one classes and group classes. If you're in Salvador feel free to just stop by, Macambira is a super-sweet and friendly guy.
Gabi Guedes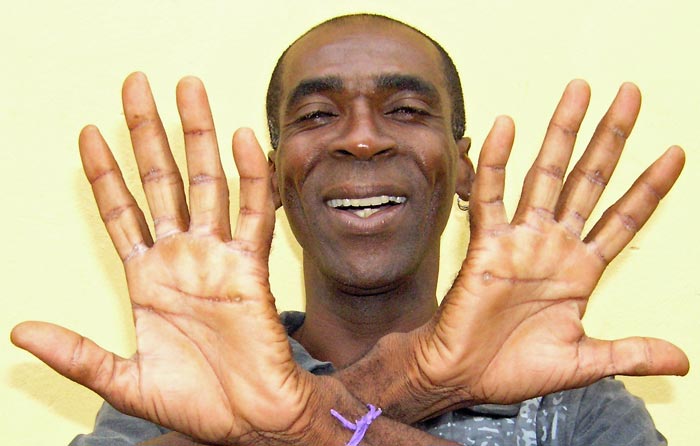 Gabi Guedes is an alabê (drummer) in the Gantois house of candomblé here in Salvador, responsible for bringing down the deities. He was made filho-de-santo by Mãe Menininha, perhaps the most famous mãe-de-santo (head priestess) to have ever existed. Gabi is a reference not only for the rhythms of candomblé ketu (the nation of the house he drums for), but for gêge and angola as well.
For the closing of the Rio Olympics, Gabi arranged the candomblé drumming behind the playing of Brazil's national anthem (there were a number of drummers, Gabi included).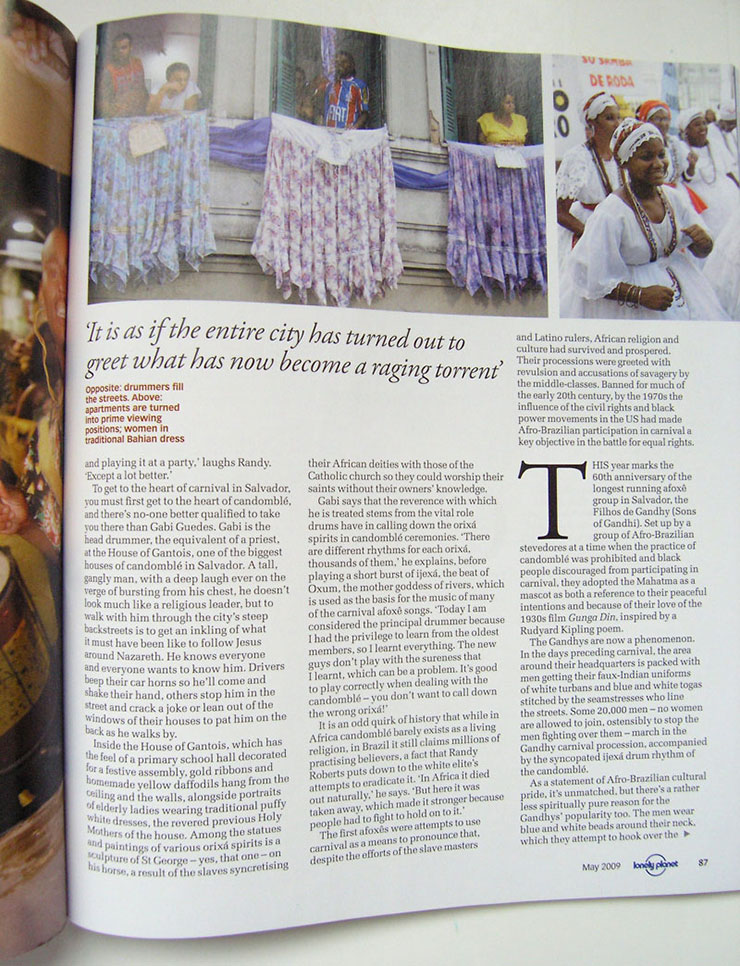 Gabi can be reached at +55 71 9 9175-7543 (tel/whatsapp).
Giba Conceição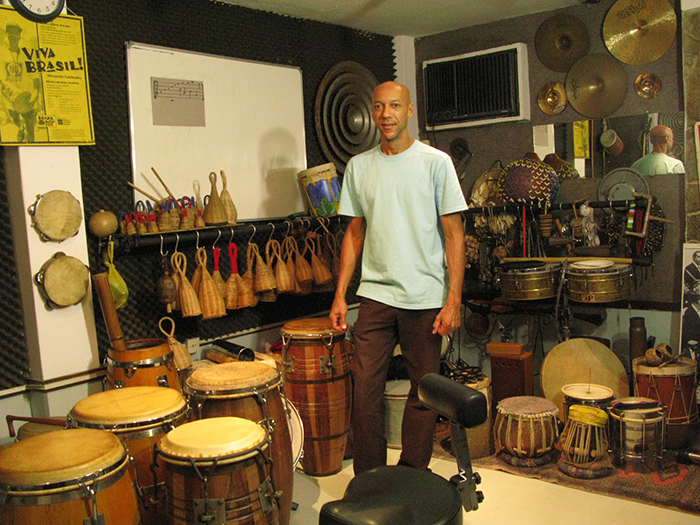 Irrepressible Giba! Absolute master with the energy and wide-blinking eyes of a kid! Giba gives classes in his studio close to the Teatro Castro Alves and Campo Grande.
Tel/whatsapp +55 71 9 9962-3051
Iuri Passos & Rum Alagbé

Iuri is an alabé (candomblé drummer) raised in the candomblé house Gantois in the Salvador neighborhood of Federação, and he is also an ethnomusicologist with a Master's degree from the Federal University of Bahia.
Rum Alagbé is Iuri's percussion teaching project, with classes at the Terreiro de Gantois several times a  week.
Whatsapp +55 71 9 9161-1288